Adam Harcourt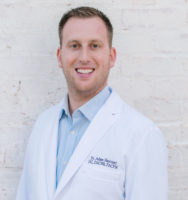 Dr. Adam Harcourt is the owner of Imagine X Functional Neurology, with office locations in Beverly Hills & Santa Barbara, CA. He is a Fellow of the American College of Functional Neurology (FACFN), Fellow of the American Board of Vestibular Rehabilitation (FABVR), Diplomate of the American Chiropractic Neurology Board (DACNB), 4th generation Doctor of Chiropractic, and is certified in Functional Neuro-Orthopedic Rehabilitation (FNOR). Dr. Harcourt is also a Professor of Clinical Neurology at Carrick Institute for Graduate Studies, where he travels both domestically and internationally instructing doctors from around the world. Dr. Harcourt has also created a 150-hour post-doctorate fellowship program and has written a book, both titled 'Mastering Migraine'.
Clinic Information:
Phone Number: 717-483-8734
Website: https://ixneuro.com
City: York
State/Province: Pennsylvannia
Country: United States
Clinic Summary:

Imagine X Functional Neurology specializes in the treatment of migraine, post-concussion syndrome, and dizziness. The office offers a variety of therapies including, but not limited to: Vestibular rehabilitation, peripheral nerve stimulation, vagal nerve stimulation, Low-Level Laser Therapy (LLLT, Erchonia FX635), Btracks balance and postural assessments, Dynavision D2, Motion Guidance, Tone pacer, physical rehabilitation, tilt table therapy, manual therapies, instrument-assisted soft tissue therapies, Impulse IQ, and Rapid Release Technology. They also offer hormonal and lab testing and dietary/supplemental treatment protocols.