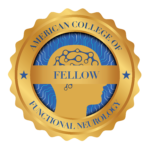 The American Board of Functional Neurology
The American College of Functional Neurology® (or ACFN) is the sole general-neurology specialty certification board in Functional Neurology. The American College of Functional Neurology® (ACFN)  a non-profit certification organization dedicated to serving and protecting its members,  by certifying excellence in practice. The ACFN administers certification examinations and maintains certification renewal processes. The ACFN also issues a Certificate of Qualification and a Fellowship in Functional Neurology.
Fellowship Credentials – FACFN®:
Both FACFN® and the term Fellow of the American Board of Functional Neurology are federally protected and trademarked terms to describe the highest level of certification by the FACFN®.
Fellows must be a licensed health care primary care provider or profession in a healthcare professional field (MD, DO, DC, DPT, ND, PhD, etc), that has completed a minimum of 350 credit hours of training in Functional Neurology in an ACFN and ACFN approved educational program
The ACFN requires that throughout the initial certification and maintenance of certification processes, fellows must have a valid, unexpired, and unencumbered license to practice a primary care discipline in their jurisdiction. Should the provider have a lapse of their license to practice, or have it encumbered for any reason, it is the provider's responsibility to report that information to the ACFN. Failure to report license expiration or encumbrance may result in removal from the registry and/or denial for renewal of credentials.
Recertification Process:
The ACFN and FACFN demand a recertification process that is necessary to maintain the Certificate of Qualification and Fellowship Status with the registry. Registry members must submit a registration fee of $185.00 annually by July 1st with a demonstration of competency including a minimum of 25 hours of continuing education in a board-approved educational program; A bibliography listing of at least 24 neurology related journal articles from peer-reviewed publications. Fellows must also recertify by examination every 10 years.
CAGEN Approved Provider Organizations of Continuing Education Accepted by the ACFN
---
Notice of Trademark:
The American College of Functional Neurology®, American College of Functional Neurology®, FACFN® is actively used and registered trademarks of the American College of Functional Neurology, Inc.