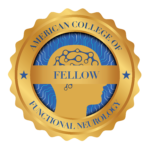 The American Board of Functional Neurology
The American College of Functional Neurology® (or ACFN) is the sole general-neurology specialty certification board in Functional Neurology. The American College of Functional Neurology® (ACFN) is a non-profit certification organization dedicated to serving and protecting its stakeholders, which consist of the public and its healthcare members, by certifying excellence in practice. The ACFN administers certification examinations and maintains certification renewal processes. The ACFN also issues a Certificate of Qualification and a Fellowship in Functional Neurology.
The ACFN standards are consistent with The Standards for Educational and Psychological Testing (AERA, APA, & NCME, 1999). It accepts health care professionals that have completed an agency recognized training or residency program in Functional Neurology. The content validity of its certification examinations is regularly demonstrated by a comprehensive job analysis conducted and analyzed by experts, with data gathered from stakeholders in the neurological subspecialty of Functional Neurology.
The certification program of the ACFN provides impartial, third-party validation that has met recognized national and international credentialing industry standards for development, implementation, and maintenance of certification programs.
Mission Statement:
The ACFN embraces and emphasizes a current and comprehensive understanding of the neuroanatomical, neurophysiological, epigenetic, biopsychosocial, and connectomic basis of rehabilitation. It embraces current research and evidence-based approaches to the diagnosis and co-treatment of common neurological conditions.
ACFN Fellows commonly act as consultants and specialists in the diagnosis, treatment, and co-management of neurological disorders. ACFN certificate of qualification holders are often educators, health trainers, or individuals that may act in a role to facilitate healthcare practitioners in the delivery of health care to individuals with brain injuries.
ACFN Board of Directors
The Board of Directors consists of an ACFN-appointed member from each sub-specialty board that may serve unlimited staggered 2-year terms. Appointments are made by the Executive Director with the support of the President. The Board is governed by the Executive Director and the President. Their responsibility is to represent and protect the registry by defining, regulating, assessing, and communicating with its members and the public.
The board of directors is responsible for communicating with the sub-specialty boards and registry, and to perform numerous functions included but not limited to: regular job analysis, defining educational requirements and standards for membership, creating and approving board and certification examinations, defining and regulating acceptable usage of board credentials, defining communication with the public about board policy and positions.
Sets educational requirements for certification
Develops examinations
Regulates the usage of credentials
Performs regular job analysis
Defines membership criteria
Board of Directors:
Certification:
FACFN®: Fellow of the American College of Functional Neurology. Both FACFN® and the term Fellow of the American College of Functional Neurology are federally protected terms to describe the highest level of certification by the ACFN. Fellows must be a licensed healthcare professional in a health care professional field (MD, DO, DC, DPT, ND, Ph.D., etc), that has completed a minimum of 350 credit hours of training in Functional Neurology in an ACFN and ACFN approved educational program. Fellows must also have completed a minimum of 2 years of clinical experience in the field of Functional Neurology and have successfully passed an approved and psychometrically-validated board examination.
The ACFN requires that throughout the initial certification and maintenance of certification processes, health care providers must have a valid, unexpired, and unencumbered license to practice a primary care discipline in their jurisdiction. The ACFN demands a recertification process that is necessary to maintain Fellowship Status with the Registry. Fellows must re-certify by July 1 of even number years with a demonstration of competency including a minimum of 25 hours of continuing education in a board-approved educational program; submitting an annotated bibliography of 6 peer-reviewed article that falls in the biennium period prior to the renewal period; paying recertification dues, and completing a job-analysis survey. Fellows must also recertify by examination every 10 years.
Notice of Trademark:
The American College of Functional Neurology®, American College of Functional Neurology®, FACFN® is actively used and registered trademarks of the American College of Functional Neurology, Inc.