Cedrick Noel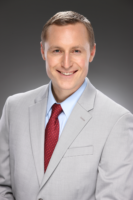 Dr. Noel graduated from Life University in 2002 with a Doctorate of Chiropractic and a Bachelors degree in Nutrition.
He also obtained post graduate degrees as a Diplomate of the American Chiropractic Neurology Board, Fellow of the American Board of Childhood Developmental Disorders, Certified Chiropractic Extremity Practitioner, Certified in the Kennedy Spinal Decompression Technique, Certified by LPG in the use of the Spine Force machine and Certified by the Back Project in the use of the ATM2 rehabilitation method.
There is not one chiropractic technique that can help every patient, for that reason Dr. Noel is constantly refining his skills and expanding his knowledge by attending an average of 10 seminars per year which is 10 times the state board requirement.
Dr. Noel is dedicated to giving each patient the best care possible to allow everyone to live at their highest potential.  He resides in the community with his wife Kendra, his daughter Olivia and his sons Tristan and Chase.
Dr. Noel is also an inventor of products designed to help people improve brain health and spinal health from the comfort of your home.  For more information on the Home Spinal Decompression System Click Here.  For more information about the Focus Builder App for brain rehabilitation Click Here.
Clinic Information:
Clinic Summary:

Dr. Cedrick Noel is a chiropractor, nutritionist and specialist in brain rehabilitation serving Roswell and the surrounding area. Dr Cedrick Noel and the rest of the welcoming team at Noel Brain & Spine (Absolute Chiropractic & Wellness) are committed to providing chiropractic solutions to address your unique needs, whether you are experiencing back pain, neck pain, headaches, or even muscular tightness and tension. You may be searching for pain relief after an accident, experiencing an injury, or if you suffer from a specific condition like chronic back pain or a spinal condition.  You may have a a brain based condition such as a mild traumatic brain injury or a developmental disorder.  Even if you're looking to improve your overall health, Dr Cedrick Noel can help you attain your everyday wellness goals!