David Hardy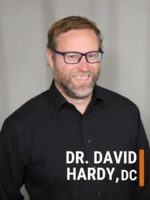 Dr. Hardy graduate Cum Laude in his Chiropractic class and has received his Diplomate in Functional Neurology through the American Chiropractic Neurology Board and his Fellowship from the American Board of Brain Injury and Rehabilitation. He has practiced in North Carolina and Ohio before returning home to Alberta. During his time in the U.S., his primary focus was seeing patients struggling with concussions/brain injuries, neurodegenerative, neurodevelopmental, and metabolic conditions.
Before healthcare, Dr. Hardy's career was in education, where he has taught toddlers to senior citizens in Australia, Japan, and Canada.
Dr. Hardy also has an impressive athletic experience including competing at high levels of rugby and completing both full and half Ironman competitions. He currently enjoys hiking, mountain biking, and pretty much any outdoor activities.
Clinic Information:
Clinic Summary:

Our vision is to be the very best sports medicine clinic, dedicated to achieving positive results every time—through an interdisciplinary, caring, professional approach. We continue to learn every day to allow you to achieve your goals. By collaborating with you, our client, we act as your advocate to navigate the health care system.