Jeremy Schmoe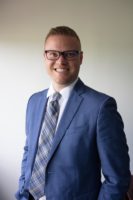 Dr. Schmoe is the founder and director of The Functional Neurology Center and Co Developer of The Brain Health Online Summit. Over the past 10 years he has been working with patients with complex neurological dysfunction. 
He has treated thousands of patients with head injuries, vertigo, dysautonomia, dizziness, movement disorders, neuro-degenerative and developmental disorders. He enjoys seeing the most complex cases Integrating neuro-rehab, manual therapy, lab work and nutrition. 
He has worked with many professional NHL and KHL hockey players and has been highlighted in Minnesota Hockey Magazine. He has also been in The Huffington Post, Experience Life Magazine and WCCO for his work. 
He specializes in working with post concussion syndrome and vestibular symptoms, which is his passion. He has lectured Nationally and Internationally in Canada and England for the Carrick Institute of Clinical Neuroscience. 
He is a Diplomate of the American Chiropractic Neurology Board DACNB, passed the FACFN examination and was the valedictorian of the 2015 FABBIR Carrick Institute TBI program. 
He has presented at the Minnesota Brain Injury Alliance Annual Conference, North Dakota TBI Network and in Washington DC at the Federal Interagency TBI Conference. He has been a guest on numerous podcasts and has presented at the University of Minnesota annual sports symposium as well as the Minnesota Chiropractic Association Concussion Conference and annual conference. He enjoys educating other providers and patients on functional neurology. He is an adjunct faculty member at Northwestern Health Sciences University in Bloomington, MN. 
He lives and practices in Minnesota. His wife Erin is also a chiropractor and they have a 6 month old daughter named Willow and a 5 year old dog named Burrberry who likes to hang at the clinic. 
His center in Minnesota has seen thousands of patients in an intensive care model helping with Post Concussion, Dizziness, Vertigo, Dysautonomia, TBI and ABI. 
Dr. Jeremy Schmoe DC DACNB FACFN FABBIR 
Clinic Information:
Phone Number: 6122238590
Website: https://theFNC.com
City: Minnetonka
State/Province: Minnesota
Country: United States
Clinic Summary:
What Sets Us Apart
The Functional Neurology Center (The FNC) started out of one room, with a focus on caring for the whole person. And now we've grown to a 6,000 square foot clinic that treats more than just your brain, but also how your brain health affects your quality of life and the lives of those who love you. During your Neuro-Exam, Discovery Day, Intensive Program, or even just a single visit for a 'tune-up', you'll always work one-on-one with a small team of doctors who are just as invested in your recovery as you are. Of course, we have the latest diagnostics and high tech therapies and treatments, but your recovery hinges on more than what we know and the tools we can buy. It's our personalized investment in your health, and a rock-solid believe that There is Hope, that sets us apart.