Karla Mehlenbacher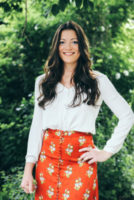 Dr. Karla Mehlenbacher is a Board-Certified Chiropractic Neurologist, holistic autoimmune practitioner and founder of Take Root Brain & Body. Dr. Mehlenbacher uses Integrative Neurology and Functional Medicine to help people struggling with post-concussion syndrome, childhood developmental disorders, chronic pain and many other neurological and autoimmune conditions.
After developing an auto-immune disease as a child, and later a discovery of Lyme Disease, she was drawn to the field of holistic health and healing. Dr. Mehlenbacher received a Doctorate of Chiropractic from Parker University, Fellowships from the International Board of Functional Neurology and the American Board of Brain Injury and Rehabilitation and has degrees in human anatomy, biology and clinical neuroscience. She weaves perspectives from these disciplines to support full-body wellness. Her hope is to build a community where anyone suffering with chronic illness can seek wellness and feel supported by a wide variety of resources specific to the healing journey.
Clinic Information:
Phone Number: 3039934575
Website: https://takerootcn.com
City: Denver
State/Province: Colorado
Country: United States
Clinic Summary:

Improving the health of your brain and your quality of life is our primary goal, which all starts with understanding how the brain functions. We perform a very detailed neurological examination so we can have an extensive understanding of the physiology and anatomy of the brain, spinal cord, nerves and muscles that coordinate, move and balance our bodies. At Take Root we do not cover up the symptoms, we get to the root of what is causing the problem. We then offer an individualized, targeted treatment plan specifically for your needs and the way your unique brain functions giving you the instructions about how you can change your life for good.