Michael Allen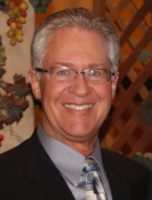 Being a chiropractic patient all his life, Dr. Allen's patients like to say that their doctor is 100% homegrown! Dr. Allen is the Healthcare Director of Allen Chiropractic, PC, and the Founder of HealthBuilderS®, both in Laguna Hills, California, and he has been serving the people of Southern California since 1977. He is licensed as a Doctor of Chiropractic (DC) in California and as a Naturopathic Medical Doctor (NMD) in Arizona. He has received four Diplomates: the International Board of Applied Kinesiology (DIBAK), the American Board of Chiropractic Neurology (DABCN), the Chiropractic Board of Clinical Nutrition (DCBCN) and the American Academy of Integrative Medicine (DAAIM). Dr. Allen has also been awarded a Fellowship in neurology from the American College of Functional Neurology (FACFN), specializing in the treatment of functional neurological problems like movement disorders and pain management.
Dr. Allen has experience with all types of patients from infants to the elderly, including professional, Olympic and world-class athletes. He has successfully treated professional baseball, hockey, football, tennis, wrestling, boxing, swimming, and weightlifting champions. He also has a remarkable passion for people with learning disabilities, having taken extensive training in their unique circumstances.
An Author, and Founder of HealthBuilderS®, the Educational Division of Allen Chiropractic, PC
Dr. Allen's clinical and professional expertise has earned him acclaim in tens of countries on four different continents as a teacher and the author of the books, What Your Brain Might Say if It Could Speak, for the general public, and Receptor Based Solutions™; Functional Neurology Every Doctor Should Know, for doctors of various licenses. Dr. Allen also developed The New Mother's Program of pre- and postnatal vitamins for a nationally recognized and professionally focused nutrition company.
Professional Experience
Dr. Allen has served as the Vice-Chairman, Secretary and Member-at-Large of the United States Chapter of the International College of Applied Kinesiology (ICAK), and a two-year term as the President of the ICAK's International Council, overseeing 18 chapters worldwide. He has most recently served the ICAK as the International Council's Vice-President and has served the International Board of Examiners as its examination secretary and neurology consultant.
Special Recognition and Awards
Dr. Allen has been the Neurology Editor for the International Journal of Applied Kinesiology and Kinesiologic Medicine. He has been awarded The Key to the City of New Orleans as an Honorary Citizen; he is an Honorary Member of the German Medical Society for Applied Kinesiology (DÄGAK) and is a past Member of the esteemed International Chiropractic Knights of the Round Table (1983-2008). He has twice applied to NASA to be a Mission Specialist onboard the Space Shuttle.
Clinic Information:
Phone Number: (949) 855-9629
Website: https://drmichaelallen.com
City: Mission Viejo
State/Province: California
Country: United States
Clinic Summary:
ALLEN CHIROPRACTIC AND HEALTHBUILDERS™
Our Name is What We Do Best!
Finding the right doctor is as important as receiving the right treatment. We believe that each person is unique, requiring individualized attention. Dr. Allen is specifically trained to provide a functional neurological perspective that delivers the highest quality natural and non-invasive healthcare that meets each patient's unique set of needs.​
Allen Chiropractic, PC, and HealtBuilderS™ have become known for treating complicated neurological conditions and other health-related problems with a receptor-based approach; we figure out how best to stimulate your brain to optimize its performance. We start by finding out how your brain interacts with those signals that come to your brain from your environment, and then how your brain displays those signals that come from it to the rest of your body. We address those areas that need help and watch as your overall health improves.​
Now, simply showing up for your appointments is often not enough to create the lasting changes you desire. You must do the greater amount of work between visits. While the treatment aspects of your healthcare are done in the office, most of the therapy is up to the patient. Most patients receive exercises designed as daily -- and often several times a day -- homework. You may be asked to change your diet and take certain nutritional supplements. Your progress is relative to your compliance.