Paul Deglmann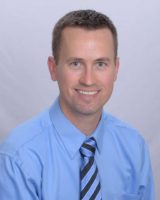 Dr. Paul Deglmann, DC, DACNB, FACFN, is a highly trained and experienced Functional Neurologist/Chiropractic Neurologist. His understanding of how the brain impacts other areas of the body is truly remarkable! He has worked with patients all over the United States who have come to seek his experience in neurological disorders.  He sees a wide range of cases in this realm including concussions/TBIs (Traumatic Brain Injuries), Parkinson's Disease, dizziness and vertigo, balance disorders, migraine headaches, mild cognitive impairment, and much more. He also uses functional medicine in combination with the functional neurology in his practice to help provide the optimal environment for the brain to heal and thrive!
Dr. Paul also has a personal reason why he became so interested in Functional Neurology and Functional Medicine.  In 2010, his wife was suffering from digestive issues and bloating.  A few months later she was still getting uncomfortable and wasn't improving. Dr. Paul was also battling some health issues of his own, rosacea and brain fog.  This led him to order a gluten sensitivity test on both himself and his wife. The results were shocking!  His wife had significant gluten sensitivity and Dr. Paul found out he tested positive for the markers for Celiac Disease.  From that time on, they have both been on a specific diet and nutritional supplements that have helped them both significantly.  Shortly after making the change to their diet, Dr. Paul's rosacea and brain fog had vanished!  Because of this, Dr. Paul's main emphasis in practice is to get to the root cause and bring individualized/personalized care to as many people as possible.
Clinic Information:
Clinic Summary:

Restorative Health Solutions is a functional medicine and functional neurology clinic based in Edina, Minnesota. We are a very dedicated clinic that strives at getting to the root cause of the patient's illness/symptoms through a specific process. We perform a comprehensive examination (physical and functional neurological exam), take a very thorough history and take time to listen to the patient. From there, we then determine what steps need to be taken based off of the history, results from the examination, considering the reason why the patient came to our office and finding out what's important to them in regards to their health. The next steps typically consist of ordering follow-up testing (blood tests, hormone panels, food sensitivity panels, leaky gut panels, stool tests, etc). The approach is individualized/personalized to the point where each patient gets tests specific to what they need. No two patients are the same and we believe everyone needs to be treated as an individual. The testing gives us a much better plan and also allows us to set expectations more accurately based off of the results. The metabolic side (nutrition, diet, lifestyle, supplementation) needs to be addressed in neurological cases to help provide the optimal environment for the brain to heal/recover or improve in function.