Yong Kim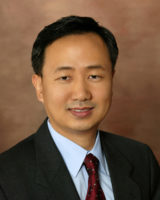 Dr. Yong Kim was born and raised in South Korea. He majored in computer science and worked in the telecommunications industry for years before he decided to pursue his dream of becoming a Doctor of Chiropractic. In 2001, he moved to the United States with his wife and two daughters in order to pursue his doctorate degree. He is a graduate, cum laude from Life University School of Chiropractic. Upon graduation, he founded SF Chiropractic & Rehab Center in Tampa, Florida. He also achieved his Diplomats in acupuncture (Dipl. Ac. NCCAOM) and chiropractic neurology (DACNB) in order to expand his services to his patients. He is also fellows of the American Board of Electrodiagnostic Specialties (FABES) and International Academy of Medical Acupuncture (FIAMA)
Dr. Kim understands the utmost importance of maintaining a healthy spine. He is committed to helping his patients feel their best through comfort, compassionate care, and clinical excellence.  He gives extensive and individualized attention to each of his patients and strives to build a firm relationship with them.
Clinic Information:
Clinic Summary:
Have you been injured in an accident? Are you suffering from non-stop headaches, back aches, neck pains, or leg cramping? When you're in pain, everyday tasks can become overbearing. That's why SF Chiropractic and Rehab Center is here for you.
SF Chiropractic and Rehab Center's staff of highly trained professionals are dedicated to helping you get better so you can get back to living the life you deserve.If you're in pain, don't settle, call 813.350.9100 today.