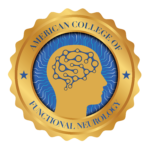 The American College of Functional Neurology® currently meets or exceeds the standards for credentialing set forth by the Institute for Credentialing Excellence (ICE), and the National Commission of Certifying Agencies (NCCA). These standards consist of five categories of standards:
(1)  Purpose, Governance, and Resources, containing 5 Standards
(2)  Responsibilities to Stakeholders, containing 4 Standards
(3)  Assessment Instruments, containing 9 Standards
(4)  Recertification, containing 2 Standards
(5)  Maintaining Accreditation, containing 1 Standard
These standards eliminate conflicts of interest by prohibiting certification agencies from delivering education required to obtain certification, and remaining autonomous.
The American College of Functional Neurology® is recognized by the American Chiropractic Association and the American Board of Chiropractic Specialties as the sole authority for credentialing of neurological subspecialties in the field of chiropractic medicine.