Christopher Sass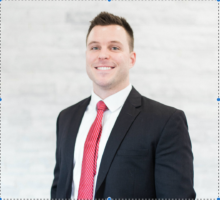 Dr. Chris grew up in the small country town of Capac, Michigan and is excited to bring his passion for chiropractic neurology to Illinois. His experience as a board certified functional neurologist includes helping people suffering from neurological issues many places around the United States and Europe. After learning and treating patients from all around  the world in clinics in Atlanta and Orlando, Dr. Chris is excited to serve the Chicago area and surrounding communities.
Dr. Chris attended the Michigan State University, graduating with a B.S. in Human Physiology with Honors in 2011. He graduated Magna Cum Laude from Life University with a Doctorate of Chiropractic in 2015. He received his post-doctorate Fellowships in Brain Injury and Rehabilitation and Diplomate for the American College of Functional Neurology in 2015.
Over the past 5 years, he has accumulated over 700 course hours for the Carrick Institute for Graduate Studies learning about all aspects of neurology and patient rehabilitation. He also received his Bioflex ® light laser therapy certification in 2015.
Dr. Chris utilizes many disciplines in the evaluation and treatment of his patients, including chiropractic, neurological, musculoskeletal, and light laser therapy. Dr. Chris specializes in  concussion, traumatic brain injury, stroke, dysautonomia/POTS, vestibular disorders, dystonia and other movement disorders, sports performance enhancement. Dr. Chris currently has over 30 publications in neurology research journals and is actively involved in publishing more each year. Dr. Chris' passion is utilizing his training and experience in chiropractic neurology, to help the many who have not found the answers to their health problems elsewhere.
Clinic Information:
Clinic Summary:
The Neurologic Wellness Institute (NWI) is a clinical facility with a family spirit. We have created an atmosphere that makes us love to come to work every day and helps change people's lives. Our patients feel it, too. From the minute they walk in the door, our patients feel encouraged and well cared for. If you're curious about our full story and how we became the NWI (formerly Illinois Neuro and Physical Rehabilitation), visit our About page.
The Quick Scoop: We all live in the Chicagoland area and love to immerse ourselves in our specific fields of study, work out, play hockey, go camping, go to concerts, and spend time with our families. We're passionate about the quality of our patient care and the effectiveness of our treatment programs for patients. We improve their quality of life, run a company with a familial warmth, and practice what we preach.